The Assessment and Review of the Citizenship Criterion and its Distinction from other Similar Concepts in Iranian Law
Abbas Zera'at

Kashan University (Esfahan, Iran)

Meysam Nematollahi

Kashan University (Esfahan, Iran)
Keywords:
Citizen, Human Rights, Citizenship, Iranian Law, Constitutional Rights
Abstract
Citizenship is one of the concepts discussed in most fields of humanities. Each field has studied it within a context regarding its perspective. The criterion of citizenship has been neglected in most of these studies and has received less attention. Who are the subjects of this word? This argument is necessary because words have their own effects and cases in the law; therefore, it is necessary to determine the subject before the other rights and duties are considered. Similarly, the present research is an attempt to find out what people are subject to citizenship. By considering the existing rules of the law, it can be seen that issues such as nationality and residence are older than "citizenship". However, none of these issues can be a criterion for citizenship. Even the subject of human legal documents cannot be dealt with as a criterion of citizenship because the acceptance of each criterion has some challenges. What is certain is that being a citizen is itself a factor for citizenship and should be considered as a condition for citizenship according to its components.
Downloads
Download data is not yet available.
References
Abdul Ghani Vastani, A. (2007). Study of Citizenship in Algeria Law. Legal Services Law Journal, 10(1), pp. 23-33.

Al Kajbaf, H. (2010). Citizenship in Iran and other countries. Tehran: Jangal Publishing.

Alawi, A. (2000). Investigating the Pattern of Citizen Participation in the Administration of City Affairs (Global and Iranian Experiences). Tehran: Publications of the Organization of Municipalities.

Ardebili, M.A. (2007). The reason and nature of citizenship rights from theory to law. Journal of Legal Justice, 58, pp. 131-152.

Castells, S. & Davidson, A. (2003). Migration and Citizenship, translated by F. Taghilu. Tehran: Strategic Studies Institute Research.

Daneshpezhouh, M. (2011). Islamic Law and Private International Law. Qom: Publications of the Seminary Institute of Higher Education and University.

Ebrahimi, S.N. (2005). Private International Law. 4th ed. Tehran: SAMT Publication.

Ghasemi Shub, A.A. (2004). A look at the status of foreigners in international law, with an emphasis on international human rights documents. International Law Journal, 31, pp. 86-93.

Javad, J. (2007). The reason and nature of the rights of citizenship from theory to law. Judicial Law Magazine, 58, pp. 103-129.

Levine, A. (2001). The Design and Criticism of Liberal Democracy Theory, translated by S.Z. Kalam. Tehran: SAMT Publication.

Marie Guy, A. (2012). Citizen in the History of Western Thought, translated by A. Bagheri. Tehran: Foroozan Rooz Publication.

Mariega, A. (2012). Citizenship at west thought. Tehran: Forozanfar publication.

Maryam, A. (1987). International Law. London: Pitman Publication.

Nasiri, M. (2001). Private International Law. Tehran: Aghah Publication.

Poorneamati Shamsabad, T. (2012). The concept of citizenship and its effects on jurisprudence. Najafabad: Islamic Azad University.

Sarvari Moghadam, M. (2004). A Review of the Difference of Nationality, Citizenship and Other Similar Terms in the Law of Iran, Britain, United States and France. Journal of the Teacher of Humanities, 1.

Seljuki, M. (1991). Private International Law. Tehran: Publications Office of International Law Services of the Islamic Republic of Iran.

Seyyed Fatemi, S.M.Q. (2002). Ethical and Argumentative Foundations of Human Rights. Journal of Legal Research, 35, pp. 45-62.

Seyyed Fatemi, S.M.Q. (2007). The reason and nature of citizenship rights from the theory to law. Journal of Legal Justice, 58, pp. 79-95.

Sharifi Tarazkouhi, H. (2013). The Fields, Dimensions and Effects of Citizenship Rights. Tehran: Publications of Mizan Legal Foundation.

Vallagard, B. (1981). Special International Law, 2nd ed. Tehran: Majd Publication.

Von Golan, G. (1999). An Introduction to General International Law, vol. I, translated by S.D. Aghaei. Tehran: Mizan Publishing.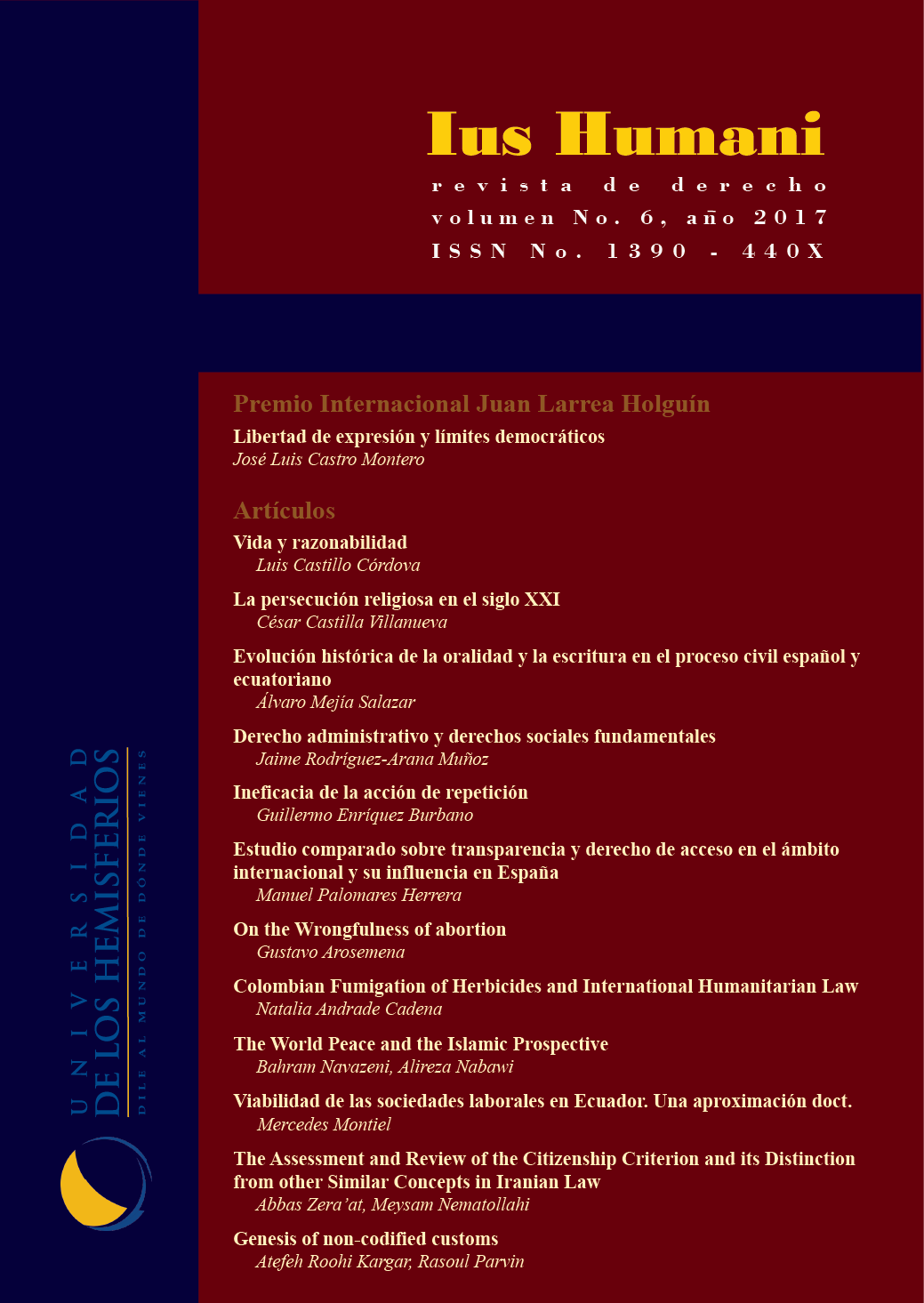 How to Cite
Zera'at, A., & Nematollahi, M. (2017). The Assessment and Review of the Citizenship Criterion and its Distinction from other Similar Concepts in Iranian Law. Ius Humani. Law Journal, 6, 213-230. Retrieved from http://iushumani.org/index.php/iushumani/article/view/170
This work is licensed under a Creative Commons Attribution 4.0 International License.
Authors publishing in our Journal comply to the following terms:
1. Authors keep their work's copyrights, but they guarantee Ius Humani Law Journal to be the first publisher of their papers. They grant the Journal will a Creative Commons Attribution License, under which their work can be shared with the condition that it is appropriately cited.
2. Authors are aware and accept that the Ius Humani Team will try to give the greatest diffusion to the Journal, which means, among other things, that its printed and electronic editions will be distributed among different databases and scientific indexes.
3. Authors can establish further clauses for non exclusive distribution, such as publication on a separate book or placing in an institutional data-base. Nevertheless, a note should be always added to explain that the paper was originally published in Ius Humani Law Journal.
4. We permit and encourage authors to share their work through Internet before and during the editorial process to receive further recommendations and wider references (we recommend you read the article The Effect of Open Access).