Comparative study on transparency and right of access in the international sphere and its influence in Spain
Keywords:
Public Information, European Union, Legislation, State, Jurisprudence
Abstract
In order to understand and assimilate the current evolution and the international scope of public transparency and the right of access to public information holistically today, a study of an international set of norms of different dimensions is proposed. To this end, systemically, a compilation and classification of international standards, declarations, provisions and resolutions is carried out first, and secondly a European level in Community declarations, directives and own resolutions. To this follows a commentary and a florilegio that brings to light the current situation of the same from the global to the community. The study concludes in a general overview of what lies in the direction of an emerging right fundamental right of access to public information, the trend and evolution of public transparency on comparative law in which they are reflected in the Recent developments in each field of law.
Downloads
Download data is not yet available.
References
Álvarez Vélez, M. y Alcón M. (1996). Las constituciones de los quince Estados de la Unión Europea. Madrid: Dykinson.

Castañeda, J. (1967). Valor jurídico de las resoluciones de las Naciones Unidas. Ciudad de México: Colegio de México.

Cotino Hueso, L. (2005). El nuevo derecho fundamental europeo al acceso a los documentos, transparencia e información pública. Libro en
Homenaje a Íñigo Cavero Lataillade. Valencia: Tirant lo Blanch, pp. 725-753.

Diez de Velasco, M. (2009). Instituciones de derecho internacional público. Madrid: Tecnos.

Fernández Ramos, S. (1997). El derecho de acceso a los documentos administrativos. Madrid: Marcial Pons.

Guichot, E. (2011). Transparencia y Acceso a la Información en el Derecho europeo. En Cuadernos Universitarios de Derecho Administrativo.
Sevilla: Derecho Global.

Guichot, E. (2014). Transparencia y acceso a la información pública en España: análisis y propuestas legislativas. Documentos de trabajo (Laboratorio de alternativas), 170, 2011.

Mendel, T. (2008). Libertad de información: Comparación jurídica. París: UNESCO.

Mestre Delgado, J. (1998). El derecho de acceso a los archivos y registros administrativos. Análisis del artículo 105.b) de la Constitución.
Madrid: Civitas.

Quirós Soro. F. (2012). Transparencia en la Unión Europea. Métodos de información, 5(3), pp. 177-203.


Normativa:

Carta de los Derechos Fundamentales de la Unión Europea, del Parlamento Europeo, el Consejo de la UE y la Comisión Europea firmada el 7-XII-2000 en Niza.

Carta Democrática Interamericana, aprobada el 11-IX-2001.

Carta Iberoamericana de Participación Ciudadana en la Gestión Pública, adoptada en la XIX Cumbre Iberoamericana, Portugal, 2009.

Código Europeo de Buena Conducta Administrativa, del Parlamento Europeo, 2001.

Constitución Española, 1978.

Convención Americana sobre Derechos Humanos, 1969.

Convenio del Consejo de Europa sobre el Acceso a los Documentos Públicos, firmado en Troms (Noruega), el 18-VI-2009.

Convenio Europeo para la Protección de los Derechos Humanos y de las Libertades Fundamentales, adoptado por el Consejo de Europa el 4-XI-1950.

Convenio sobre acceso a la información, participación del público en la toma de decisiones y acceso a la justicia en materia medioambiental, 1998.

Decisión 94/90/CECA, sobre acceso público a documentos de la Comisión Europea.

Decisión del Consejo por la que se hacen accesibles al público determinadas categorías de documentos del Consejo, 9-IV-2001.

Declaración Universal de los Derechos Humanos, 10-XII-1948.

Directiva 2003/4/CE del Parlamento Europeo y del Consejo relativa al acceso del público a la información medioambiental y por la que se
deroga la Directiva 90/313/CEE del Consejo, 28-I-2003.

Directiva 2003/98/CE del Parlamento Europeo y del Consejo, relativa a la reutilización de la información del sector público, 17-XI-2003.

Directiva 90/313/CEE, del Consejo, de 7-VI-1990, sobre libertad de acceso a la información en materia de medio ambiente.

España, Ley 19/2013 de 9-XII-2013 de Transparencia, acceso a la información pública y buen gobierno.

España, Ley 30/1992 de 26-XI-1992, de Régimen Jurídico de las Administraciones Públicas y del Procedimiento Administrativo Común.

España, Ley 37/2007 de 16-XI-2007, sobre reutilización de la información del sector público.

España, Ley 38/1995 de 12-XII-1995 sobre el Derecho de Acceso a la Información en materia de Medio Ambiente.

Iniciativa europea en favor de la transparencia: Libro Verde de 3-V-2006.

Instrumento de ratificación del Convenio de lucha contra la corrupción de agentes públicos extranjeros en las transacciones comerciales
internacionales, París, 17-XII-1997.

Ley Modelo Interamericana de Acceso a la Información Pública, 8-VI-2010.

Pacto Internacional de Derechos Civiles y Políticos, aprobada mediante la Resolución 2200 A (XXI), de 16-XII-1966.

Suecia, Ley de Libertad de Prensa, 1766.

Tratado de Ámsterdam, 2-X-1997.

Tratado de la Unión Europea, 7-II-1992.

Tratado de Lisboa, 13-XII-2007.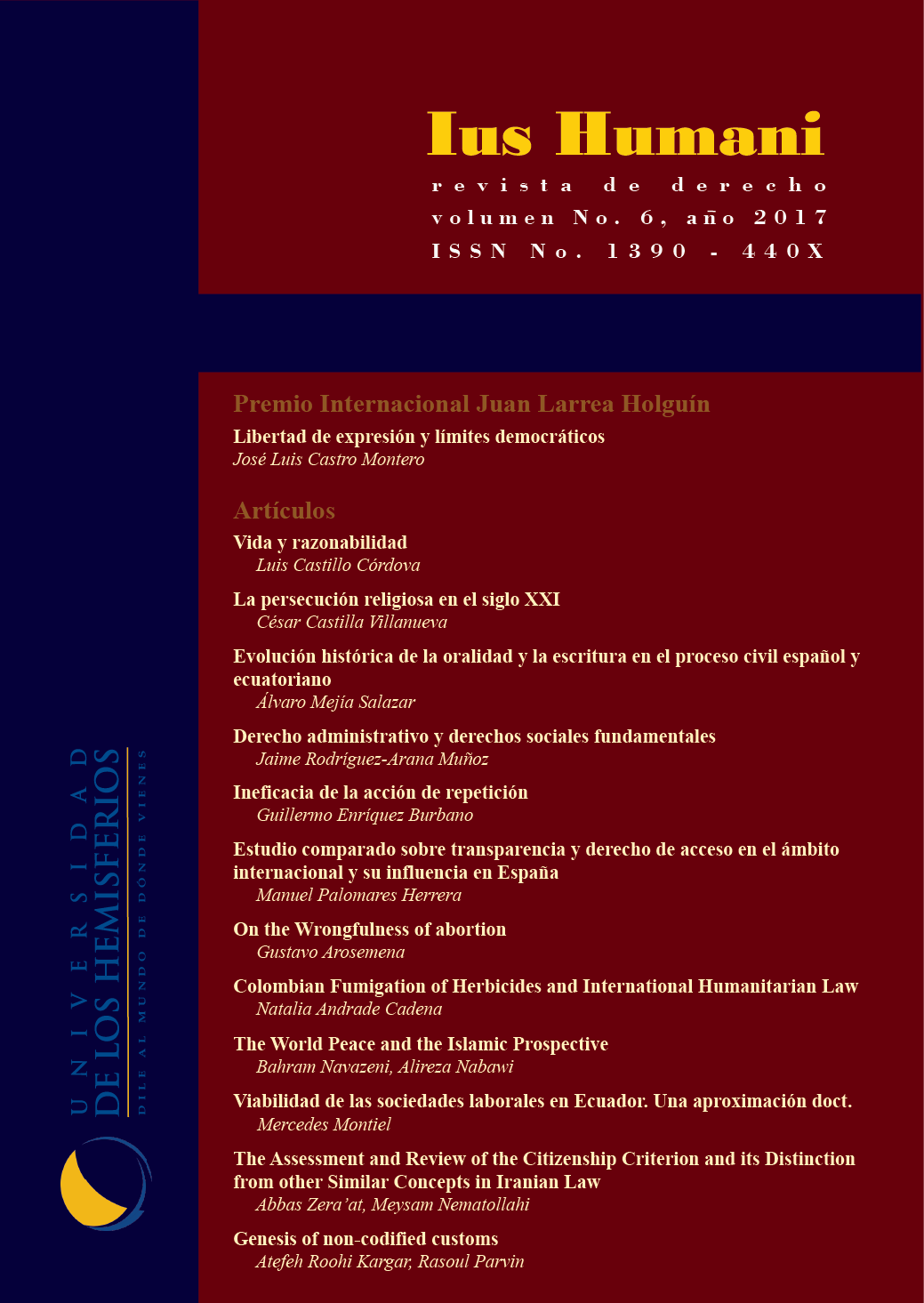 How to Cite
Palomares Herrera, M. (2017). Comparative study on transparency and right of access in the international sphere and its influence in Spain. Ius Humani. Law Journal, 6, 123-153. Retrieved from http://iushumani.org/index.php/iushumani/article/view/131
This work is licensed under a Creative Commons Attribution 4.0 International License.
Authors publishing in our Journal comply to the following terms:
1. Authors keep their work's copyrights, but they guarantee Ius Humani Law Journal to be the first publisher of their papers. They grant the Journal will a Creative Commons Attribution License, under which their work can be shared with the condition that it is appropriately cited.
2. Authors are aware and accept that the Ius Humani Team will try to give the greatest diffusion to the Journal, which means, among other things, that its printed and electronic editions will be distributed among different databases and scientific indexes.
3. Authors can establish further clauses for non exclusive distribution, such as publication on a separate book or placing in an institutional data-base. Nevertheless, a note should be always added to explain that the paper was originally published in Ius Humani Law Journal.
4. We permit and encourage authors to share their work through Internet before and during the editorial process to receive further recommendations and wider references (we recommend you read the article The Effect of Open Access).