Administrative law and fundamental social rights
Jaime Rodríguez-Arana Muñoz

Universidad de La Coruña (España)
Keywords:
Social State Based on the Rule of Law, Human Dignity, General Interest, Public Administration, ESCR
Abstract
The aim of this work is to show that the administrative law of a social and democratic state based on the rule of law is the right that the government has to liberty in solidarity. The method used is specific of legal research; in this case through argumentation and by showing the importance that the constitutional principles have on administrative law. The study opens with an introduction where the matter is put forward, followed by an analysis of constitutional law, and a comment on the incidence of the social state clause on Public Administration and administrative law that heralds the main conclusion: that general interest in a social and democratic state based on the rule of law is fully connected to the promotion of the fundamental, individual and social rights of people. In other words, that the dignity of human beings is central and at the root of public law, whereby all its institutions and categories should be defined and built from this perspective.
Downloads
Download data is not yet available.
References
Arango Rivadeneira, R. (2006). El concepto de los derechos sociales fundamentales. Bogotá: Universidad Nacional de Colombia.

Balbín, c. (28-V-2014). Un derecho administrativo para la inclusión social. La Ley, 1, 2.

Meilán Gil, J.L. (1967). El proceso de la definición del derecho administrativo. Madrid: Escuela Nacional de Administración pública.

Meilán Gil, J.L. (2016). Derecho Administrativo Revisado. Santiago de Compostela: Andavira.

Menéndez Sebastián, E.M. (2016). La Administración al servicio de la justicia social. Madrid: Iustel.

Rodríguez-Arana, J. (2006). El buen gobierno y la buena administración de instituciones públicas, Madrid: Aranzadi

Rodríguez-Arana, J. (2009). Derecho Administrativo Español. La Coruña: Netbiblo

Rodríguez-Arana, J. (2013). Interés general, derecho administrativo y Estado de bienestar. Madrid: Iustel.

Rodríguez-Arana, J. (2014a). Derecho Administrativo y Administración pública en tiempo de crisis, Caracas: Editorial Jurídica Venezolana.

Rodríguez-Arana, J. (2014b). Poder público y ciudadanos, Madrid: Reus.


Normativa:

España, Constitución de 1978.

España, Sentencia del Tribunal Constitucional de 7-II-1984.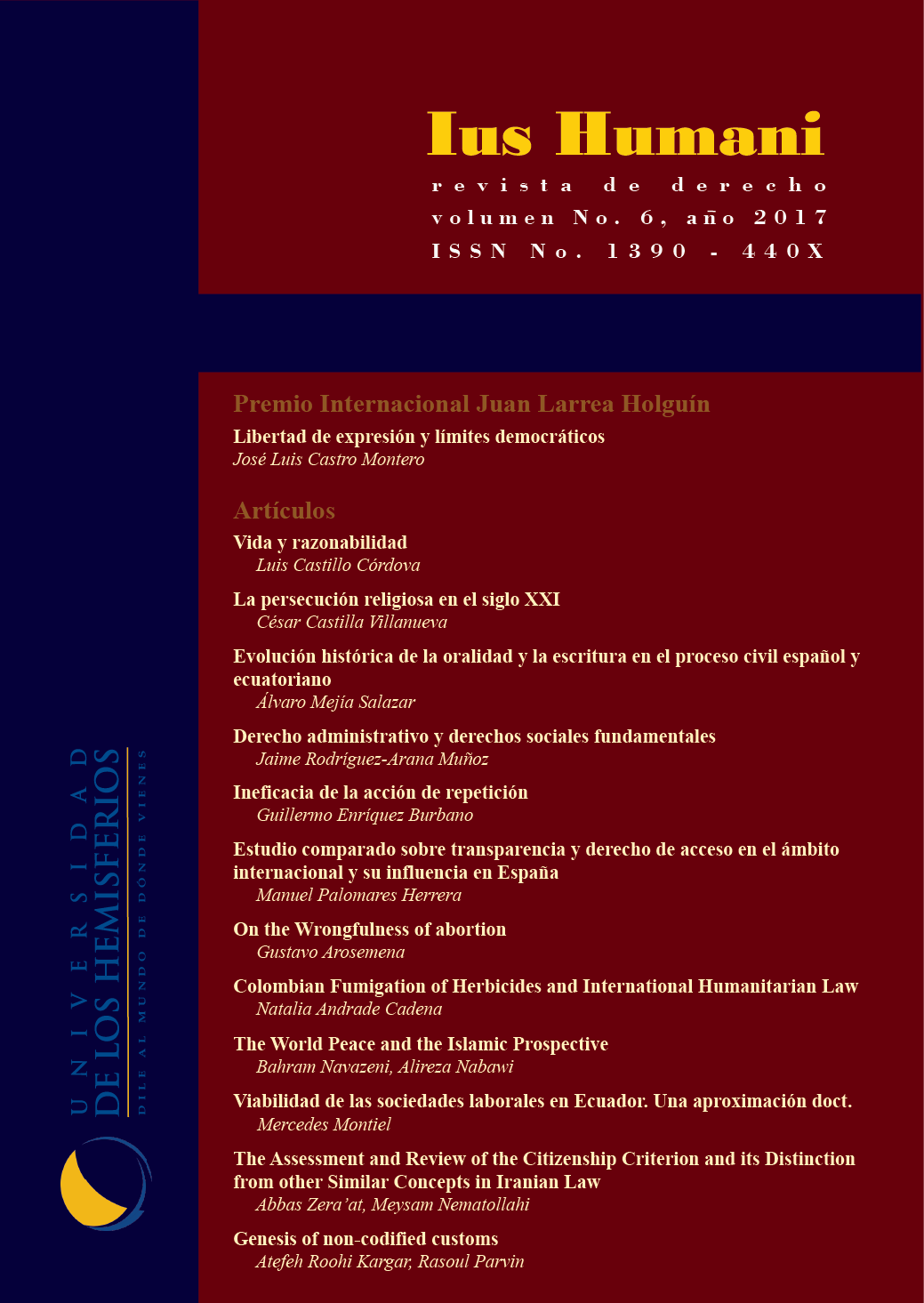 How to Cite
Rodríguez-Arana Muñoz, J. (2017). Administrative law and fundamental social rights. Ius Humani. Law Journal, 6, 95-105. Retrieved from http://iushumani.org/index.php/iushumani/article/view/113
This work is licensed under a Creative Commons Attribution 4.0 International License.
Authors publishing in our Journal comply to the following terms:
1. Authors keep their work's copyrights, but they guarantee Ius Humani Law Journal to be the first publisher of their papers. They grant the Journal will a Creative Commons Attribution License, under which their work can be shared with the condition that it is appropriately cited.
2. Authors are aware and accept that the Ius Humani Team will try to give the greatest diffusion to the Journal, which means, among other things, that its printed and electronic editions will be distributed among different databases and scientific indexes.
3. Authors can establish further clauses for non exclusive distribution, such as publication on a separate book or placing in an institutional data-base. Nevertheless, a note should be always added to explain that the paper was originally published in Ius Humani Law Journal.
4. We permit and encourage authors to share their work through Internet before and during the editorial process to receive further recommendations and wider references (we recommend you read the article The Effect of Open Access).