Oral and Written Process Historic Evolution on Spain and Ecuador
Álvaro Mejía Salazar

Universidad Andina Simón Bolívar (Quito, Ecuador), Pontificia Universidad Católica del Ecuador (Quito)
Keywords:
Procedural Reform, Procedural Law, Oral Procedure, History of Law, Ecuador
Abstract
Ecuador faces its greatest challenge in the history of its non-criminal justice administration: the implementation of the judgment by hearing process. Beyond the debate regarding the weaknesses that, in practice, this implementation experiences, it is convenient to make a retrospective review of the history of writing and orality in the processes. To these effects, the evolution of these forms of communication of the procedural acts will be studied; starting from the old age, through the medieval times, to the colonial, republican and contemporary times of the Ecuador. This will lead us to better understand each method of communication of procedural acts and will confirm the convenience of the oral technique—at least as far as the civil process is concerned. The study follow an historic method that analyze all periods of procedural evolution chronologically. This essay will cover a period between primitive societies and the COGEP (the current non-criminal procedural code).
Downloads
Download data is not yet available.
References
Aguirre Guzmán, V. (2012). Tutela Jurisdiccional del Crédito en Ecuador. Quito: Ediciones Legales.

Alfonso X (1985). Las Siete Partidas, tomo II. Madrid: Boletín General del Estado.

Alsina, H. (1941). Tratado Teórico Práctico de Derecho Procesal Civil y Comercial. Buenos Aires: Compañía Argentina de Editores.

Aristóteles (2011). Política. Madrid: Tecnos.

Asamblea Nacional de la República del Ecuador (2014). Informe del primer debate del COGEP. En http://www.asambleanacional.gob.ec/es/contenido/informe-para-primer-debate-del-proyecto-de-codigo-organico-0 (recuperado el 29-III-2016).

Barona Vilar, S. (2002). Líneas Generales y Principios Configuradores de la Ley 1/2000, de 7 de Enero, de Enjuiciamiento Civil. Revista de Derecho, 1.

Bermeo, J.E. (2013). Implementación del Procedimiento Oral para Materias no Penales en el Sistema Jurídico Ecuatoriano y el Tratamiento del mismo en el Proyecto de Código General del Proceso. Law Review del Colegio de Jurisprudencia de la Universidad San Francisco de Quito, 1.

Chiovenda, G. (2005), Instituciones de Derecho Procesal Civil. Florida: Valletta.

Fuero Juzgo o Libro de los Jueces (1815). Madrid: Real Academia Española-Imprenta de Ibarra.

Goldschmidt, J. (1936). Derecho Procesal Civil. Madrid: Labor.

Guzmán, J.A. (1957). Títulos nobiliarios en el Ecuador, Madrid: Imprenta del Asilo de Huérfanos del Sagrado Corazón de Jesús.

Montero Aroca, J. (2001). Los Principios Políticos de la Nueva Ley de Enjuiciamiento Civil. Valencia: Tirant lo Blanch.

Montero Aroca, J. La Nueva Ley de Enjuiciamiento Civil. Madrid. En http://www.tirant.com/humanidades/monocnt?daId=1&patron=01& (recuperado el 11-VII-2013).

Oliva Santos, A. de la, Díez-Picazo Giménez, I. & Vegas Torres, J. (2012). Curso de Derecho Procesal Civil, I. Madrid. Editorial Universitaria Ramón Areces.

Palomo Vélez, D. (2005). Tesis Oralidad y Escritura en el Nuevo Modelo Procesal Civil Español. Madrid.

Panateri, D. (2013). La Tortura Judicial en las Siete Partidas de Alfonso X, el Sabio. En Palimpsestos: Escrituras y Reescrituras de las Culturas Antigua y
Medieval. Buenos Aires: Universidad del Sur.

Picó i Junoy, J. (2008). El Principio de Oralidad en el Proceso Civil Español. Valencia. Universidad de Valencia-AIDP. En http://www.uv.es/coloquio/coloquio/
informes/ip25esp.pdf (recuperado el 11-I-2017).

Prieto-Castro y Ferrándiz, L. (1968). Derecho Procesal Civil, vol. 1. Madrid: Editorial Revista de Derecho Privado.

Rocco, U. (1959). Teoría General del Proceso Civil. México DF: Porrúa.

Rojina Villegas, R. (1968), Teoría general del estado. México DF: Fuentes.

Rousseau, J.j. (2001). El Pacto Social. Madrid: Aguilar.

Rúa, F. de la (1991). Teoría General del Proceso. Buenos Aires: Depalma.

Troya Cevallos, A. (2002). Elementos de Derecho Procesal Civil, t. 1. Quito: Pudeleco.

Vázquez Sotelo, J.l. La Oralidad en el Moderno Proceso Civil Español. Implantación y Dificultades de la Oralidad. biblio.juridicas.unam.mx/libros/7/3069/5.pdf (recuperado el 11-VII-2013).

Vescovi, E. (1984). Teoría General del Proceso. Bogotá: Temis.

Wolff, H. J. (2007), El Origen del Proceso entre los Griegos. Revista de la Facultad de Derecho de México, 247.


Normativa:

Alemania, Código de Hannover de 1850.

Alemania, Ordenanza alemana de 1877.

Constitución de la República del Ecuador (R.O. 449, de 20-X-2008).

Constitución de la República del Ecuador de 1945 (R.O. 228, de 6-III-1945).

Constitución de la República del Ecuador de 1967 (R.O. 133, de 25-III-1967).

Constitución de la República del Ecuador de 1979 (RO No. 800, de 27-III-1979).

Constitución Política de la República del Ecuador de 1998 (R.O. 1 de 11-VIII-1998).

Ecuador (1862). Colección de leyes y decretos de la Convención Nacional. Quito: Imprenta del Gobierno.

Ecuador (1864). Colección de leyes y decretos dados por el Congreso Constitucional de 1863. Quito: Imprenta Nacional.

Ecuador, Código Orgánico de la Función Judicial (R.O. n° 544, de 9-III-2009).

Ecuador, Decreto Ejecutivo 883, RO No. 267, de 7 de febrero de 2008.

España, Ley Orgánica del Poder Judicial (BOE núm. 157, de 2-VII-1985).

España, Leyes de Toro, 1503.

España, Novísima Recopilación de las Leyes de España, 1805.

España, Nueva Recopilación, 1567.

España, Ordenamiento de Alcalá, 1348.

España, Ordenanzas de Alcalá, 1503.

España, Ordenanzas de Medina, 1489.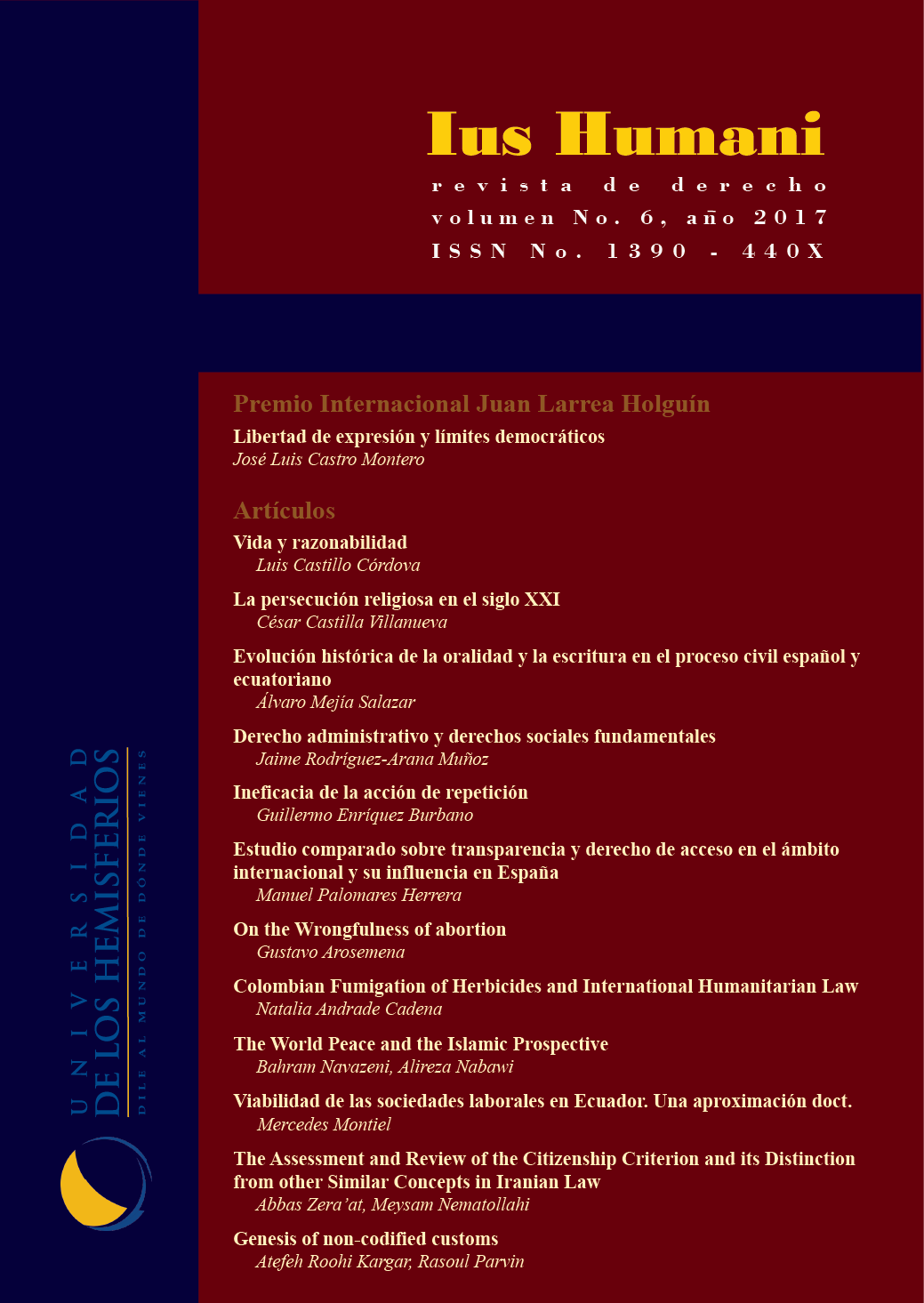 How to Cite
Mejía Salazar, Álvaro. (2017). Oral and Written Process Historic Evolution on Spain and Ecuador. Ius Humani. Law Journal, 6, 73-94. Retrieved from http://iushumani.org/index.php/iushumani/article/view/101
This work is licensed under a Creative Commons Attribution 4.0 International License.
Authors publishing in our Journal comply to the following terms:
1. Authors keep their work's copyrights, but they guarantee Ius Humani Law Journal to be the first publisher of their papers. They grant the Journal will a Creative Commons Attribution License, under which their work can be shared with the condition that it is appropriately cited.
2. Authors are aware and accept that the Ius Humani Team will try to give the greatest diffusion to the Journal, which means, among other things, that its printed and electronic editions will be distributed among different databases and scientific indexes.
3. Authors can establish further clauses for non exclusive distribution, such as publication on a separate book or placing in an institutional data-base. Nevertheless, a note should be always added to explain that the paper was originally published in Ius Humani Law Journal.
4. We permit and encourage authors to share their work through Internet before and during the editorial process to receive further recommendations and wider references (we recommend you read the article The Effect of Open Access).